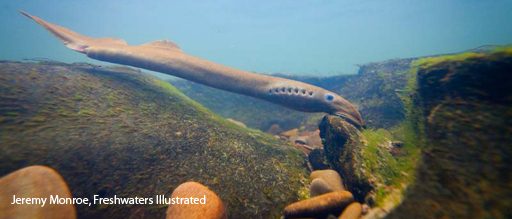 The Lamprey
What are Lampreys and Why Should I care?
WHAT IS A PACIFIC LAMPREY AND THEIR LIFE CYCLE:
Pacific lampreys are anadromous parasitic creatures from the Pacific Coast of North America. They are a jawless fish that look like eels in appearance and can grow up to 31 inches. They are not eels, but a uniques species all their own. They have teeth and are scaleless with elongated bodies sucking at the bottom of the river and eating animals. lampreys spend the majority of their lives as larvae. Juveniles and adults have a jawless, sucker-like mouth that allows them to become parasitic on other fish, attaching themselves with their suckers. The adults live at least one to two years in the ocean and then return to fresh water to spawn. They are pretty cool creatures they have a similar pattern to salmon and are just as important; yet overlooked by our community and deemed as unimportant.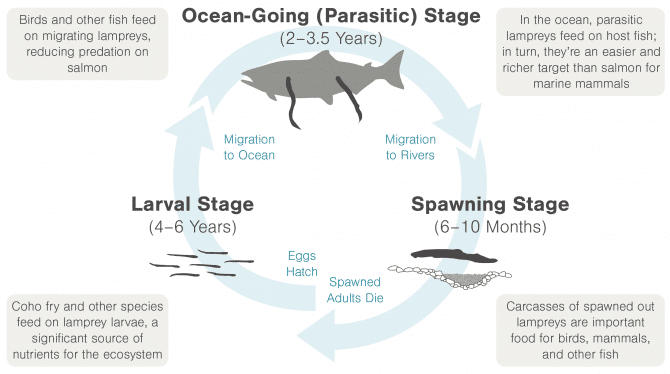 WHY SHOULD WE CARE ABOUT THIS?
Lampreys are very important to our river ecosystem. Pacific lampreys, like salmon, return important marine nutrients to the freshwater systems in which they spawn and die. Lamprey larvae are also known as a food source for other fish and birds. Another theory is that adult Pacific lampreys may act as a buffer for migrating adult salmon from predation from marine mammals. Pacific lampreys remain important to the Native Americans both culturally and as a food source. Today, Pacific lampreys are used for research, education, and anticoagulants. (https://www.fws.gov/columbiariver/publications/Pacific_lamprey_importance.pdf)

WHAT IS CAUSING THE LAMPREY TO BE ENDANGERED?
Pacific lampreys are vulnerable to habitat losses due to reduced river flows, water diversions, dredging, streamed scouring, channelization, inadequate protection of streamside vegetation, chemical pollution, and impeded passage due to dams and poorly designed road culverts. They are also being preyed upon by other non-native fish in the area and also poor water quality. All of these habitat losses also create a vulnerable river all around for other creatures living in the river as well. It is important to keep our rivers clean, and dam-free, so in order to become more knowledgable is to educate the community and ourselves of these pressing subjects.
HISTORY OF THE LAMPREY
The tribal people used the lamprey for food and medicine, and many stories and legends surrounding the lamprey were passed down from generation to generation. As lampreys disappear, younger tribal members are losing their elders' collective memory for the species and the culture that surrounds the lamprey.
(http://www.critfc.org/fish-and-watersheds/columbia-river-fish-species/lamprey/)

WHAT CAN BE DONE TO HELP THE LAMPREY
We need to educate ourselves and our community on the elusive fish. Salmon and steelhead are well known anadromous fish, however, lampreys are also in the same category and are an important part in our river ecosystems too. They get a bad rep for their looks and their parasitic behaviors, but we still need to help protect these amazing ancient fish. Rogue Riverkeepers is having a Speaker Series on lamprey Thursday, April 27, 5:30 pm-7:30 pm at the Headwaters/GEOS Building, 84 4th st. Ashland, OR 97520. Also, check out the Colombia River Inner-Tribal Fish Commission and their efforts to re-introduce the fish in numbers. The Pacific lampreys are considered a Species of Concern because they no longer exist above dams or other impassable barriers. If we provide passage ways for the lampreys and try and control the complexity of the channels we can hopefully start to re-populate the rivers.