FISH FOUND IN THE ROGUE RIVER
The Rogue River is an amazing sport fishery for salmon and steelhead, having over 215 miles of fishable water. The removal of dams over the years has created a free-flowing river from the hatchery at Lost Creek Lake to the Pacific Ocean. At Morrison's Lodge, we primarily focus on fishing the middle Rogue near Grants Pass, Oregon. The Lodge opened to anglers in the pursuit of The Rogue River steelhead in 1946 and for the last sixty-four years, anglers have made Morrison's a fall fishing tradition. Every day you spend fishing on the Rogue presents incredible scenic beauty, an abundance of wildlife, and a chance of chasing the perfect catch.
There are four main types of trout: Rainbow, Brook, Brown, and Cutthroat. They all share similar exterior features and are often found in the cold waters of rivers and creeks. Trout are also a food source for local animals, so anglers can usually find them in the woods where there are bears, bobcats, and other fishing wildlife.
RAINBOW TROUT

Rainbow trout are most common on the Upper Rogue. They are known for their unique coloring of silver, pink and red stripes along the sides. They can be as long as 30 inches and found in cold, clear water. Rainbow trout feed on minnows, crayfish, and insects.
CUTTHROAT TROUT

Cutthroat trout have red-to-orange markings under their jaws, so they look like they have a "cut throat." They're around 9 inches long, are aggressive, and make for a fun catch.
ADULT STEELHEAD

Steelhead are migratory fish that spend much of their lives in the ocean only to migrate into the Rogue for a short time before they spawn and return. They are an ocean going rainbow trout and truly are a fabulous sport fish, which fight hard and can readily be caught on flies.
In case you aren't familiar with these fish, Steelhead are an ocean going rainbow trout and truly are a fabulous sport fish. They fight hard and can readily be caught on flies. They are still the most popular fish that we fish for at Morrisons. There are various ways to fish for Steelhead. We can accommodate fly-fishing as well as conventional techniques at Morrisons.
HALF POUNDERS

Regular steelhead are born in the river and stay there until they're around 7 inches long. They then swim downstream to the ocean, where they remain for 2-3 years, growing larger and stronger. However, half-pounders return to the river after only a couple of months. Despite their name, half-pounders generally weigh about two pounds.
The half-pounder run starts in September and can last through the winter months. The later in the season it gets, the more often you'll start hooking larger, more mature winter run steelhead. Half-pounders usually travel in groups, so when you catch one you'll likely hook more in the same area.
SPRINGERS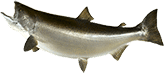 Spring Chinook, or "Springers", return from the ocean in mid-April and remain here through the end of June. Early run wild spring Chinook are prized by anglers. The best spring Chinook salmon are found on the Rogue River. A fabulous fish for fighting and eating, springers run 20-50 pounds each. Typically, springers are active early in the morning, so we advise an early start for this particular fish.
Springers are slightly harder to catch than the fall Chinook, but the quality of the fish is often superb and our guides know the proper techniques to help you land the ultimate catch. Springers are a bit more difficult to catch than the fall Chinook, but the quality of the fish is often superb. Guides will usually fish for Springers upriver from Morrison's near Grants Pass.
FALL CHINOOK

Also known as Kings, fall chinook show up about the last week in August and stay through September. Chinook are the largest salmon species in North America. The average Chinook are about 35-45 pounds, but a 50-60 pounder is not uncommon.
The Chinook is blue-green, red or purple on its back and the top of its head, with silvery sides and white ventral surfaces. They sport black spots on the tail and upper body. Chinook also have a black gum line which is present in both the salt and freshwater varieties. Chinook may spend 1-8 years in the ocean before returning to their home rivers to spawn. They also undergo noticeable changes as they prepare to spawn. They lose the silvery blue hue they had as ocean fish, and their color darkens.
The technique for Chinook is bait & lure. Guides like to get on the river early, first morning light.
COHO SALMON

Coho runs have been rather late arriving at our area of the Rogue for the last 2 seasons, showing up in late October and early November. Coho are very difficult to target and are generally caught incidentally while fishing for steelhead. They are usually bright with a silver body with a blue back and their sides take on a blush to deep red color as they come up the river to spawn.
NORTHERN PIKEMINNOW

The northern pikeminnow is a bottom feeder fish and not native to Oregon. Not usually of interest commercially or to sport anglers, Washington and Oregon state fisheries agencies have placed a bounty on the pikeminnow to reduce predation on salmon stocks.
Summer Steelhead (Sept, Oct, Nov)
Fall Chinook (August, Sept)
Coho Salmon (October, Nov)
ROGUE RIVER FISH RUN SCHEDULE
| Species | Jan | Feb | Mar | Apr | May | Jun | Jul | Aug | Sep | Oct | Nov | Dec |
| --- | --- | --- | --- | --- | --- | --- | --- | --- | --- | --- | --- | --- |
| Summer Steelhead | | | | | | | | | X | X | X | |
| Fall Chinook | | | | | | | | X | X | X | | |
| Coho Salmon | | | | | | | | | | X | X | |
| Trips | Jan | Feb | Mar | Apr | May | Jun | Jul | Aug | Sep | Oct | Nov | Dec |
| --- | --- | --- | --- | --- | --- | --- | --- | --- | --- | --- | --- | --- |
| Recreation Section | | | | | | | | X | X | X | X | |
| Wild Section | | | | | | | | | X | X | | |
| | | | | | | | | | | | | |