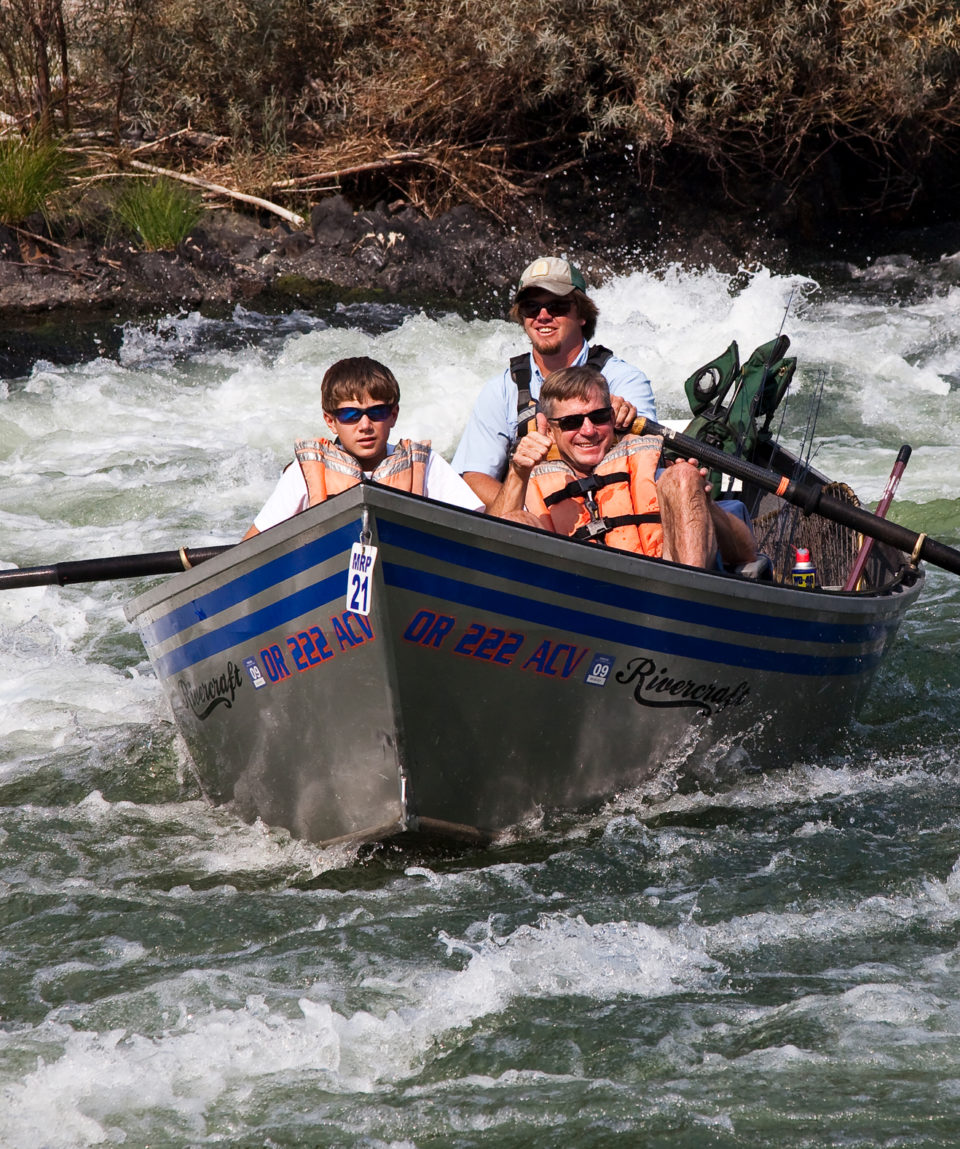 3 Day Fishing Lodge to Lodge Trips
Our most popular multiple day fishing trips begin in the late summer with our famous journeys down the Lower Rogue River Canyon. Anglers enjoy the solitude of wilderness fishing, as well as spectacular scenery, thrilling whitewater, and beautiful fall weather. This combination makes for a fantastic fishing outing.
Trips are 3 days long and cover about 64 river miles. Midday is spent on the shore where we provide a scrumptious buffet. The guides double as chefs, experienced in the art of riverbank cooking. Fresh steelhead is skinned and smoked with the leaves of nearby alder trees; then the fish is grilled over an open fire for a not-to-be-forgotten tasty delight.
As the light of day fades, anglers arrive at one of our wilderness lodges. Their friendly staff prepares a family-style meal with all the home-cooked goodness of days gone by. Anglers relax in the rustic seclusion of a wilderness lodge and enjoy the comforts of home. The lodges feature double occupancy cabins with private baths.
If you are considering a trip with us we strongly encourage you to look at our Essential Eligibility Requirements double-check you are up for the adventure.
3 Day Fishing Trip
Wild & Scenic Rogue River
Adults: $2,269.00*
* Trip price subject to 3% BLM fee and $10.00 USFS per person user fee. All reservations for fishing are based on double occupancy. Bookings must be done in even-numbered groupings.
Vacation Style Holiday Type

Activity Level
All about the 3 Day Fishing Lodge to Lodge Trips.
Trip Dates
For Availability, please call 1-800-336-1647.
Trip Details
Duration: 3 Days (3-night lodge)
Fish Species: Chinook Salmon, Steelhead, Steelhead half pounders, Coho Salmon
Rapid Level: Class II-IV
Season: September and October
Age: Typically adults, but mature youth are welcome
Lodging: The night before the trip, lodging and meals are included in the trip price at Morrisons Rogue River Lodge. Check-in starts at 2 pm. The following two nights, stay in river lodges while on the trip.
Orientation: 5:30 pm at Morrison's Lodge the evening before your trip
Trip Start: 7:00 am at Morrison's Rogue River Lodge, near Galice, Oregon
End: 4 pm back at Morrison's Rogue River Lodge
What's Included: Drift boat and guide, rods & reels, gear and tackle, lodging, meals, and transportation to and from the river.
Not Included: Oregon fishing license, adult beverages, guide gratuity, and Government access fees.
All other trip info: 2023 Canyon Trip Information